Tension Spring Rods .98in / 25mm diameter
Tension Spring Rods .98in / 25mm diameter
75 - Quickly get a phone representative on the same page you are on now by giving them the quick link ID 75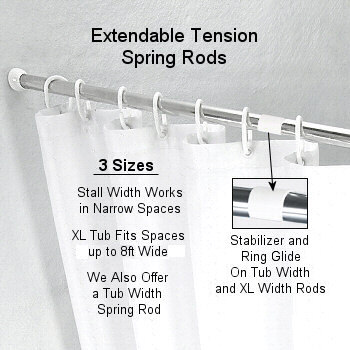 non corrosive aluminum with chrome finish

non corrosive aluminum with white finish
Additional Product Images Gallery
Click on an image to view a larger version. Larger images replace the main image shown above.
Click Here: Tension Spring Rod Details
Coordinated Families
Product Details
(
back to the top
)
Tension Spring Rod
Tension Spring Rod
Non corrosive aluminum tension spring rod available with a chrome OR white finish designed and produced by well-known German brand Kleine Wolke, established in 1968, and is backed by their quality guarantee.


Our tension rod is perfect as an outdoor curtain tension rod, tension rod room divider or tension rod in your bathroom.


1 inch in diameter with white hard rubber end caps.


Our spring rods are available in three lengths. See below for details.


No hardware required


Pull straight out to extend. NO twisting necessary. Great feature since this rod WILL NOT untwist and fall down.


Extend approximately 1 - 1 1/2 inches wider than opening for a snug fit


If over extended you can reload tension by pulling it completely apart and sliding the NON spring end of the smaller diameter piece into the larger diameter piece.


NEED HELP with installation or re extending we have step by step instructions on our site at http://www.vitafutura.com/rod_help.asp
Three Lengths to Choose from:
Stall Width extends from 29.5in to 49.2.
Tub Width fits standard tubs and extra wide spaces. This tub width rod extends from 49.2in to 86.6. Tension to 7 feet.
Extra Wide extends from 51.2in to 98.4in. Tension to 8 feet.
Feel free to contact us at support@vitafutura.com for more information
(
back to the top
)