Sea Life Safety Mats
Sea Life Safety Mats
70 - Quickly get a phone representative on the same page you are on now by giving them the quick link ID 70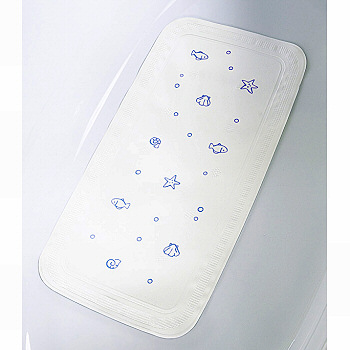 blue design

dark grey design

terracotta design
Additional Images
You can view larger images of alternative colors by clicking on a color swatch above.
Click Here: Lightweight Vinyl Safety Mat Details with Suction Cups
Stock levels are intended as a general guideline, not a guarantee and do not take into account pending orders. More stock is typically available in Europe. Orders requiring stock from Europe usually ship in 2-12 business days.
Coordinated Families
Product Details
(
back to the top
)
Sea Life Bath Safety Mat
This anti-slip safety mat is designed and produced by well-known German brand
Kleine Wolke
, established in 1968, and is backed by their quality guarantee and features the following:
High quality durable vinyl construction with PVC foam rubber core. Welded outer edges as well as antibacterial and fungicidal properties to prevent water penetration.
Machine washable in warm water with mild detergent.
Suction cups cover the entire back side for excellent non-slip capability. Great suction on smooth surfaces.
(
back to the top
)