Shower Roller Blind
Shower Roller Blind
504 - Quickly get a phone representative on the same page you are on now by giving them the quick link ID 504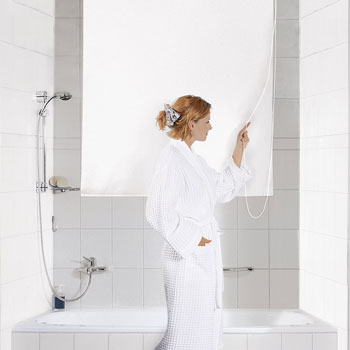 white
Additional Product Images Gallery
Click on an image to view a larger version. Larger images replace the main image shown above.
Click Here: Shower Roller Blind
* Stock levels are intended as a general guideline, not a guarantee and do not take into account pending orders. More stock is typically available in Europe. Orders requiring stock from Europe usually ship in 2-12 business days.
Coordinated Families
Sorry, there are no coordinated families for this family of products.
Product Details
(
back to the top
)
Shower Roller Blind
Design:
High quality, beautiful shower roller blind with classic white design
100% vinyl; very durable
Designed and produced by well-known German brand Kleine Wolke, established in 1968, and is backed by their quality guarantee..
Easy to install.
Instructions for cutting to size:
Remove vinyl blind from tube (the plastic piece attached to the blind can slide out either end).
Measure and cut tube to size (saw plastic tube).
Measure and cut vinyl to size (fabric scissors work well).
Re-insert vinyl blind into tube.
You may now proceed with installation as normal.
Note: the sides of the vinyl blind are not hemmed, cutting to size will not require re-hemming.
Caution:
Small children can be strangled by loops in pull-cords or chains. Cords should be kept out of children to avoid risk of strangulation and entanglement. Cord loops should hang no lower than 60 cm above the floor. Beds, cots and furniture must be placed away from cords. Do not tie cords together. Make sure that cords do not twist and create loops.
Shower roller blind assembly instructions:
Please check whether all listed parts are included in the scope of delivery before starting to assemble your new roller blinds.
A. 1 roller blind.
B. 1 holder for the spindle without pull chain, including release lever.
C. 1 spindle without pull-chain mechanism.
D. 1 holder for the spindle with pull-chain mechanism.
E. 1 spindle with pull-chain mechanism.
F+G. 4 screws / rawlplugs
1. Assembly - determine position, Place the spindles (C+E) as indicated into the roller blind (A) and the holders (B+D). Then hold the roller blind in the intended place and mark the drilling holes with a pen.
2. Mounting Holders. Remove the holders. Before fastening them to the wall/ceiling, make sure to choose the right drilling bit for fastening the supplied rawlplugs (G) or for installation in wood. Use the screws (F) to install the roller blind on the surface of your choice.
3. Insertion of the roller blind into the fastened holders. choose on which side the pull-chain is supposed to hang. Insert both spindles (C+E) into the roller blind (A) and press tightly. Make sure that the roller blind (A) unrolls to the back and pull chain can hung unobstructed. For this, the open side of the spindle (E) has to point downwards. First, place the roller blind into the roller blind holder (E). Remove (open) the release lever of the roller blind into the roller blind holder (B). Shift the release lever and let it click into place.
(
back to the top
)