Jump Waste Paper Basket
Jump Waste Paper Basket
356 - Quickly get a phone representative on the same page you are on now by giving them the quick link ID 356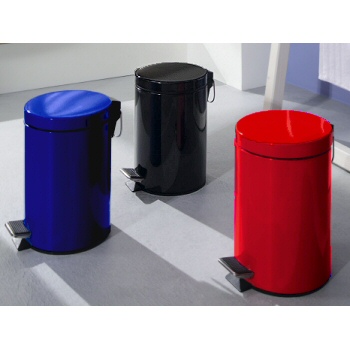 black

chrome

white
Additional Images
You can view larger images of alternative colors by clicking on a color swatch above.
Click Here: Jump Waste Paper Basket Details
Stock levels are intended as a general guideline, not a guarantee and do not take into account pending orders. More stock is typically available in Europe. Orders requiring stock from Europe usually ship in 2-12 business days.
Coordinated Families
Product Details
(
back to the top
)
Jump Waste Paper Basket
Aluminum bathroom waste basket designed and produced by well-known German brand
Kleine Wolke
, established in 1968, and is backed by their quality guarantee.
This waste paper basket is made from aluminum has a durable shiny finish with great features including:
A black rubber pedal for hands free use
Durable removeable hard plastic liner with a handle for easy cleaning
Chrome handle on the back hinge so you can pick up the entire waste basket.
Jump Waste Basket Color Options:
Black: Beautiful black with glossy finish.
Chrome: Brushed chrome finish.
White: Beautiful glossy white waste paper basket.
(
back to the top
)