Ascot Bath Accessories
Ascot Bath Accessories
567 - Quickly get a phone representative on the same page you are on now by giving them the quick link ID 567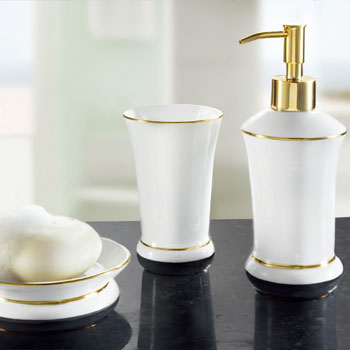 white/gold

white/silver
Additional Product Images Gallery
Click on an image to view a larger version. Larger images replace the main image shown above.
Click Here: Ascot Bath Accessories Details
Stock levels are intended as a general guideline, not a guarantee and do not take into account pending orders. More stock is typically available in Europe. Orders requiring stock from Europe usually ship in 2-12 business days.
Coordinated Families
Product Details
(
back to the top
)
Ascot Bathroom Accessories
Beautifully finished bath accessories made from 100% porcelain in white with an exquisite silver/ golden accent. Elegant classic design and premium quality. Designed and produced by well-known German brand
Kleine Wolke
, established in 1968, and is backed by their quality guarantee..
Available Sizes:
Tumbler: Thick porcelain construction with a glossy finish. Ideal for everyday use.


Soap Dispenser: Glossy white porcelain dispenser with shiny chrome finish for the pump. This dispenser can hold 13.5oz of liquid soap or lotion. Ideal for everyday use.


Toilet Brush Set: Beautiful and durable. Ideal for everyday use.


Soap Dish: Elegant design. Ideal for everyday use.
(
back to the top
)